Welcome to our VIP program!
We are overjoyed that you have taken this step to invest in yourself, your business, and your future, and we look forward to supporting you on your individual journey.
Before the program officially launches on January 1, we're looking forward to connecting to learn more about where you are at now with your life and business, where you want to be, and what issues you are planning to tackle next.
We'll be sending out updates by email as we get closer to opening day, but all of your resources will populate here at that time, so bookmark this link!
Since you've joined during our special early-bird period before the program commences, we have two special thank you's for you:
a 15-minute welcome call with Gabi
half-price admission on our Strategic Planning Mastermind Workshop
Please use code VIPHALFOFF to register for either our December 5 and 6 (1-7pm EST) Strategic Planning Mastermind Workshop or our next session January 17 and 18 (10am-4pm EST). (This code is exclusive to members of our VIP program, so please don't share it with anyone! It is a special gift for you to get a jumpstart on the new year.)
Before you schedule your call with Gabi, we would so appreciate if you were table to take the time to help us get to know you to make the most of your time on the call. You can find our pre-call questions here. This will allow Gabi to spend some time digesting and thinking about you and where you're at now before you talk, so you can really jump right in in your time together.
We recommend you set aside some focused time to answer these questions–doing so is part of starting to set the future of your business on a new, clear path! Throughout all of the years we've run our coaching program, we can honestly tell you that the people who put thought, reflection, and insight into their pre-call forms are the ones who see the most success. And it's because the call prep is designed to help you start having important insights about your business right away. We can't wait to read yours and get to know you.
Grab your call with Gabi on our scheduling page here, and make sure to choose the option at the top for the VIP Program: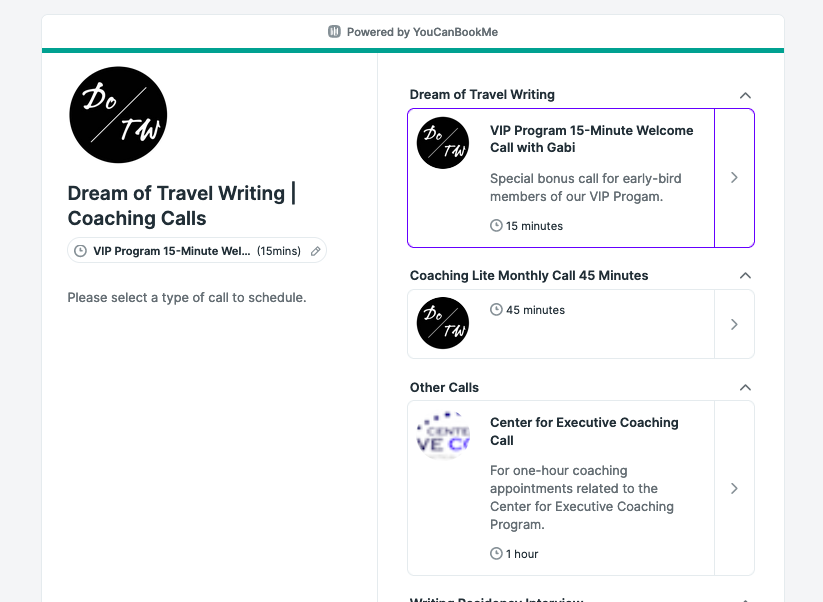 Take this Course